Expert in Coaching
CCA certified Post-HBO Program tot become an International Certified Transformational Life Coach.
Start November 2021

---
Why choose this transformational coaching program?
'Coaching is seeing the masterpiece within every person - and from there unlocking the potential to create any result in life. It is all about helping to learn instead of teaching'.
That is the philosphy of our certified transformational coaching program 'Expert in Coaching'.
As a participant of the post-HBO CCA Transformational Coaching Program, you will learn fundamental skills, theories and techniques to become a transformational coach. In addition, you also learn how to connect with your coachee and how to become the best version of yourself. You will find answers to the question "in which way you yourself are the source of change and thus a source of inspiration for your coachees?"' This training therefore serves a double purpose: not only will you develop your professional coaching skills, you will also - equally important - grow your personal development. Both are reflected in the structure of the program.
This Program is for you, if you...
Want to develop yourself and grow as a person, coach and leader.
Want to learn to coach with maximum results for your clients
As a manager / director want to develop more leadership in your team and inspire your team to create outstanding results
Have the vision to support other people in evoking their potential
Want to guide other people in developing their vision and how to create lasting results that support that vision
Are a teacher and want to inspire your students for them to develop both emotional intelligence and achieve greater school results
Want to start your own coaching practice / company
Are already a coach and are looking to expand your skills with transformational frameworks, tools and ways of being
You will learn...
After successfully completing the program as a Transformational Life Coach, you will:
Know yourself in a very profound way and be able to create leadership in others
Guide clients in developing their vision and unlocking their hidden potential
Be able to inspire others to take action in a profound way and create sustainable results
Develop wisdom, being present and neutrality to connect with others
Know how to unblock situations through powerful questions
Have the opportunity to experience the best version of you
Obtain tools to lead people and highly effective teams.
Be internationally certified by the Certified Coaching Alliance (CCA)
Have a Post-HBO Registration (CPION)
Be able to work as a coach in your own practice, or work together with Gettinvolved Trainings in a licensed partnership
---
Program
Time investment
In this 6-months you will undergo theoretical and practical training to become a Transformational Coach. After a mandatory 7-days training on emotional intelligence, this program of 125 accredited hours consists of modules, conference calls, assigments and practicum meeting to develop essential transformational coaching skills. To use them as a professional coach and / or to use them in your personal and professional life. Due to the international character of our programs, the language of instruction and all assignments of this Coaching Program is English.
You attend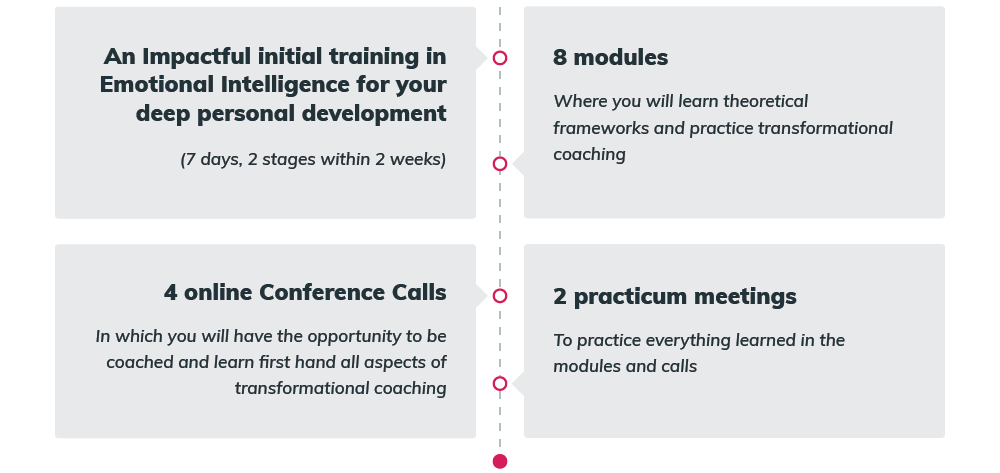 You complete



Besides the live modules, calls and meetings you complete assignments, read compulsory literature and practice coaching. The practical and theoretical exams take place within 6 months after starting the Program.
You can graduate within 6 months upon after taking the exams. After passing the exams successfully, an additional 6 months are available to complete the Program. Early graduation depends on your personal situation and time investment.

---
Overview of the program
The full program consists of 3 main elements that together lead to international CCA Certification and Dutch CPION Post-HBO Registration as a Transformational Life Coach.
Fundamentals
During the Fundamentals of personal development you will learn to develop your emotional intelligence by discovering your own paradigms and limiting beliefs in a unique experiential way in the Basic Training and by breaking through your barriers and creating your own vision for your life in the Advanced Course Training. After graduating for the fundamentals and taking your emotional intelligence, your self-awareness and your leadership skills to the next level, you will expand your professional skills in the ESSENTIAL COACHING SKILLS.
Essential coaching skills
During this program you will obtain the following essential skills in transformational coaching in 4 different levels:
LEVEL 1:
FOUNDATIONS

The Primary Functions of Coaching
Coach / Client relationship

LEVEL 2:
SKILLS & TOOLS

Active Listening
Asking Questions
Personality Styles
Conflict resolution

LEVEL 3:
COACHING SESSION

How to build and develop a coaching session
Feedback
Creating Assignments

LEVEL 4:
AUTO-COACHING

Teaching your client to Self-coach
Certification and registration
Requirements for certification by the CCA and the CPION comprise: successful completion of both theoretical and practical exam, submission of all mandatory assignments and evidence of 30+ hours of coaching sessions.
CCA AND CPION: Upon verified completion of all curriculum elements, participants:
Earn an official certificate and dedicated webpage recognising them as an Internationally Certified Transformative Coach licensed with the Certified Coaches Alliance (CCA). The CCA is one of the largest international coach alliances in the world.
Earn a CPION Registration in the Netherlands as a professional Registered Post-HBO coach
---
The journey
Locations

NETHERLANDS – Sassenheim
SWEDEN – Stockholm
SPAIN – Madrid
NOTE: The scheduling of our live training(s) will be subject to European Corona Virus Measures. For that reason keep in mind that rescheduling of dates is a possibility. It is our intention to keep you informed at all times about the planning of our programs! If the training(s) will not be possible in a face to face context, we will start with an online introductory training to get you started.
---

INVESTMENT
From €1500,-
Fundamentals € 1500,-
Essential Coaching Skills € 3900,-
Certification & Registration € 250,-
For the three parts of the complete Coaching Program combined, your investment will be € 5650,-. If you register for the full program, you will get a package discount of € 750,- and you pay € 4900,-. Our program is free of VAT.